Chocolate Raspberry Sauce Recipe
Scrumptious Raspberry Topping
for Ice Cream, Pudding, Cake
This scrumptious Chocolate Raspberry Sauce Recipe is great for topping over ice cream, cake, pudding and more!

*As an Amazon Associate I earn from qualifying purchases at no cost to you.
The combination of chocolate and raspberries is so berry delicious that you will be back to make this recipe again and again!

I made this raspberry sauce for Valentine's Day, and I found that it was very simple to make.
As  you can see from the photos (below), the raspberry seeds were easily removed by using a small strainer.

---
---
How to Make Chocolate Raspberry Sauce
Ingredients
Note - You can use frozen raspberries for this recipe.
If you are using frozen raspberries, chop the frozen berries in a blender, and, if the berries are dry, add a little water.
(I used frozen raspberries when I made this today.)

3/4 cups fresh ripe raspberries, crushed
1/2 cup whipping cream (not whipped)
2 ounces semisweet chocolate, finely chopped (or chocolate chips)
1 1/2 tbsp. confectioners' (icing) sugar, or more (to taste)
pinch of salt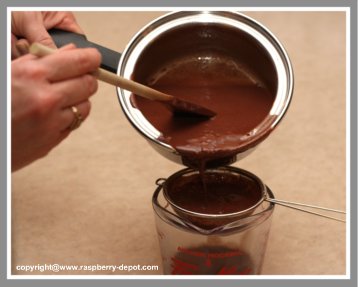 Straining to Remove the Raspberry Seeds
Directions
Heat the raspberries, cream, chocolate, sugar and the salt in a small saucepan over medium-low heat, stirring and mashing the berries, until the chocolate is melted.
Add more sugar to taste, if desired.
Remove the pan from the heat and let stand for 5 minutes.
Pour the mixture through a fine strainer set over a bowl, pressing hard on the solids to extract as much of the liquid as possible (see picture).
Serve immediately, or let cool to room temperature, then transfer to glass jar and refrigerate, tightly covered, until thoroughly chilled, or for up to 2 weeks.
Shake well before serving chilled.
I doubled the recipe, and it made almost 2 cups of Raspberry Sauce.
Enjoy! 

---
---
---
TOP of Chocolate Raspberry Sauce Recipe

RETURN to More Raspberry Sauce Recipes

HOME to Homepage 

©2010-2019 Raspberry-depot.com - All Rights Reserved Worldwide 
No Reproduction Permitted Without
the Express Written Consent of the Site Owner