Thanksgiving Recipes
With Raspberries

Ideas For Thanksgiving Day
Salads, Desserts, Brunch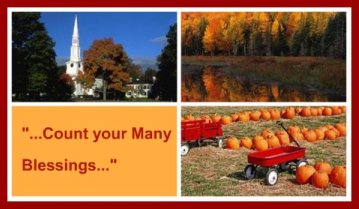 Here are great Thanksgiving Recipe ideas using raspberries for the most inviting salads, desserts, drinks, snacks, and more!
If you are hosting a Thanksgiving Dinner Celebration, or you are attending a dinner or a Holiday get-together and you are looking for an idea of what to bring, you have come to the right place!
*As an Amazon Associate I earn from qualifying purchases at no cost to you.
---
---
I can't imagine any salad for Thanksgiving Day more colourful than these fruit salad recipes.
Take a look at these enticing salads, all of them very quick and easy to make. They are a treat to the palate and a feast for the eyes! Definitely Thanksgiving Recipe idea "keepers"!
---
---
---

GO to More Raspberry Salad Recipes
GO to More Chicken Raspberry Salad Recipes
Surprise your family and friends with homemade salad dressing or homemade raspberry vinegar too!
GO to Raspberry Salad Dressing Recipes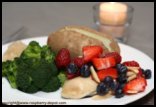 Try an amazing Raspberry Salsa for Chicken.
If you are having a large crowd over for Thanksgiving Dinner, here is a very easy recipe for how to make a fruit salad for a crowd.
Go to Fruit Salad for a Crowd 
Chilled Raspberry Soup can be served prior to the main course Thanksgiving Day Dinner, or as a dessert at the end of the meal.

If you are hosting an informal Thanksgiving Day Celebration, why not consider making your own mouth-watering Fresh Fruit Kabobs?
Or, make a fresh fruit tray, and prepare a quick and easy fruit dip (or two), to accompany it! Everyone loves fruit and dip!
GO to How to Make a Fruit Tray
---
---
For a special Thanksgiving Fruit Dip Recipe that tastes like pumpkin cheesecake,
GO to Pumpkin Cream Cheese Dip
GO to More Fruit Dip Recipes

---
---
Everyone looks forward to Thanksgiving Day Dessert! I have included many quick and easy dessert recipes to make with healthy raspberries. Raspberry pies, crumbles and crisps, tarts, cakes, cheesecakes, bars, squares, cookies, ice cream, and more mouth-watering dessert ideas with fruit!
---
---
---
GO to More Raspberry Pie Recipes

GO to More Raspberry Tart Recipes
---
---
---
GO to More Raspberry Pie Recipes

GO to More Raspberry Tart Recipes

GO to More Raspberry Cookies/Bars/Squares

GO to More Raspberry Cake Recipes

GO to More Raspberry Cheesecake Recipes

GO to More Raspberry Truffle Recipes

GO to Raspberry Ice Cream Recipes

GO to Raspberry Sorbet Recipes

Here are suggestions for very quick and easy Thanksgiving Recipes for dessert. These are the type of dessert recipes that look amazing, and taste scrumptious, but take only minutes to prepare!
---
---
---

Go to More Raspberry Dessert Recipes
Versatile raspberry sauce, raspberry syrup, raspberry compote, or berry coulis is a specialty that can be enjoyed on pound cake, cheesecake, shortcake, ice cream, sorbet, and puddings. Or, add raspberry sauce to breakfast pancakes, scones, or waffles.
GO to Raspberry Sauce/Syrup/Compote/Coulis
A Fruit Fondue is a great idea to enjoy a dessert finale to dinner. Fondues help to create an atmosphere of relaxation - perfect for encouraging fellowship and conversation around the table.
GO to Fruit Fondue Recipes and How to Fondue
Perhaps you are hosting out-of-town guests, and you are searching for a Thanksgiving Day Breakfast idea. Including fruit such as nutritious raspberries in your menu is a great idea. Tasty and nutritious raspberry muffins, pancakes, scones, or waffles are sure to please!
---
---
---
GO to More Raspberry Muffin Recipes

GO to More Raspberry Pancake Recipes

GO to More Raspberry Waffle Recipes

GO to Raspberry Scone Recipes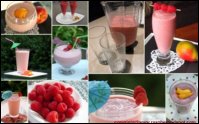 For an extra special Thanksgiving Day treat, consider making refreshing raspberry drinks. Choose from raspberry smoothies, homemade raspberry iced tea, raspberry iced coffee, raspberry punch, raspberry juice, and raspberry cocktails.
Are you planning on grilling/barbequing for a Thanksgiving Day Celebration? Consider grilling fruit, almost any type of fruit can be grilled to perfection! Surprise your guests with grilling fruit as a grilled side dish, a delectable grilled fruit salad, or an amazing grilled fruit dessert!
GO to How to Grill Fruit and Grilled Fruit Recipes

If you require Special Diet Recipes you can find raspberry recipes for these at the following links:
GO to Gluten Free Raspberry Recipes

GO to Low Fat Raspberry Recipes

GO to Less Sugar Raspberry Recipes
Many of these Thanksgiving Recipes can be prepared in advance, allowing more time for the host to enjoy quality time with family and friends!
Whatever your Thanksgiving Day Celebration includes, I hope you have a most enjoyable Thanksgiving Day Holiday with your family and friends and remember to "Count Your Many Blessings!" 

---
GOT Rhubarb in your Freezer or Fresh Rhubarb?

GO to Rhubarb Central for Thanksgiving Recipes with Rhubarb
GOT Apples? Apples make GREAT Thanksgiving Recipes!

GO to Best-Easy-Apple-Recipes.com

GOT Peaches? 

GO to Peach Recipes at Peach-Depot.com 
---
TOP of Thanksgiving Recipes

HOME to Homepage of Raspberry-Depot.com
©2010-2019 Raspberry-depot.com - All Rights Reserved Worldwide 
No Reproduction Permitted Without
the Express Written Consent of the Site Owner