Fruit Dip Recipe with Cream Cheese
Easy and Quick Dip for Fresh Fruit
Here is a delicious Fruit Dip Recipe with Cream Cheese that everyone will love!

*As an Amazon Associate I earn from qualifying purchases at no cost to you.
A quick and easy recipe that is a variation of the ubiquitous cream cheese fruit dip ... only 3 ingredients with optional nuts!

Great for dipping: strawberries, raspberries, bananas, grapes, blueberries, pineapple, apples, and more!

If you are looking for a simple and quick recipe for fresh fruit dip for a Baby Shower, Wedding Shower, a Family Reunion, or any special occasion you have found a great choice of a fruit dip recipe here.
Or, use this dip for a kid's fresh fruit dip at snack time!
Dip to accompany fresh fruit makes eating fruit sooo much more appealing!

Ingredients
4 oz. cream cheese
1/2 cup brown sugar, packed
2 tsps. vanilla extract
1/4 cup chopped nuts - your choice of nuts (optional)

---
---
Directions
In a bowl, beat the cream cheese, brown sugar and vanilla extract until smooth and fluffy and the sugar is dissolved.
Stir in the nuts, if desired.
Keep dip in refrigerator until ready to serve, and leftover dip.
The dip may harden a little.
Soften the dip by microwaving it on very low power for just a few seconds.
Makes about 3/4 cup dip.
Great for dipping: strawberries, raspberries, bananas, grapes, blueberries, pineapple, apples, and more!
Dip ... and enjoy!

★ Are you planning on making a Fresh Fruit Tray?
Check out these easy, DIY Fruit Tray Recipes: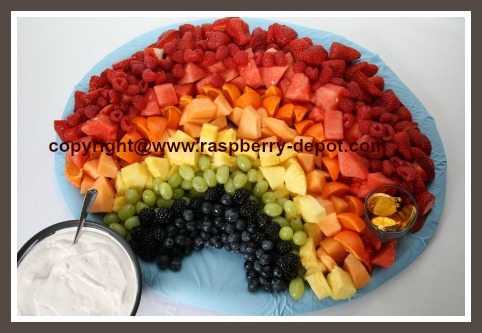 Here is the perfect fruit tray idea for a Bridal /Wedding Shower or a Baby Shower!
Having a Shower?
Make a Rainbow!
Fun and Easy!

Did You Know?
In addition to tasting amazing, raspberries are nutritious and including these fruits in your diet provides many health benefits.
Raspberries are known to provide anti-inflammatory properties, including anthocyanins (the pigments in red, purple and blue fruits), which are believed to help reduce cardiovascular disease and diabetes, help to improve eyesight and memory functions.
Raspberries are also a good source of ellagic acid.
Ellagic acids, which may slow down the growth of some cancer cells, is found in raspberries (including the seeds!), in fact raspberries are a leading source of the acid.

---
---
Raspberries, especially the seeds, may become more and more important in the booming cosmeceuticals market (skin care products with health benefits).
The oil in the seeds of the raspberries is rich in vitamin E, omega-3 fatty acids and has a natural SPF (sun protection factor) of 25 to 50.
Raspberry skin cream claims to be a product that helps to prevent or treat skin conditions "naturally".
Read more at the following link:

GO to Raspberry Skin Cream

---
TOP of Fruit Dip Recipe with Cream Cheese
RETURN to More Recipes for Fruit Dip

RETURN to More Raspberry Snack Recipes
RETURN to Homepage

©2010-2019 Raspberry-depot.com - All Rights Reserved Worldwide 
No Reproduction Permitted Without
the Express Written Consent of the Site Owner