Gluten Free Chickpea Chocolate
Cake or Cupcakes Recipe with Raspberries
This Gluten Free Chickpea Chocolate Cake or Cupcake Recipe makes a deliciously delicious cake or cupcakes that EVERYONE will enjoy!

*FTC Disclosure: As an Amazon Associate I earn from qualifying purchases with no extra cost to you

*FTC Disclosure: As an Amazon Associate I earn from qualifying
purchases with no extra cost to you
Topped with healthy fresh raspberries (or use other berries in season), no one will even guess that this baking recipe is flourless or gluten free!

A great idea for birthday parties if you wish to make gluten free chocolate cupcakes.

My daughter Karissa made this cake this past weekend, and did not tell anyone it was made of chickpeas, and no one even guessed -- or asked any questions ... they ♥ just loved it!
It's amazing how your taste buds are influenced by what you know ...  or think you know is included in the recipe ingredients!

Whoever said that "gluten free" didn't taste good?

---
---
This recipe will soon become a family favourite.
You can make it in any round baking tin, or, for special occasions, such as Valentine's Day or Birthday's it's easy to make in a heart-shaped, or other shape baking pan.
I used a small "heart-shaped baking pan", and made a half-dozen cupcakes with the left-over batter.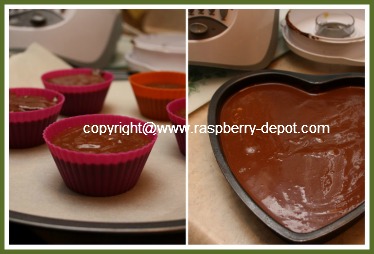 Making Gluten-Free Chocolate Cupcakes
Ingredients
Note - Be sure to read the labels on all the ingredients to be sure they are listed as being "gluten free".
1 1/2 cups semi-sweet chocolate chips or chopped chocolate
1 can - 19 oz./540 ml. size - chickpeas, rinsed and drained
4 medium size eggs
3/4 cup granulated sugar
1/2 cup raspberry jam
dusting of icing sugar
fresh raspberries, for garnishing, optional

Directions
In a double-boiler or heatproof bowl set over a pot of barely simmering water, melt the chocolate chips or pieces, stirring until smooth. (Or, melt the chocolate chips or pieces in a microwave-safe bowl with a couple teaspoons of vegetable oil at a medium-low setting).
Combine the chickpeas (rinsed and drained), the eggs, and the sugar in a blender or a food processor.

---
---
Process until the mixture is smooth.
Add the raspberry jam and the melted chocolate to the blender/food processor, and blend until the mixture is smooth and well blended.
Grease a 9" round, or heart-shaped, cake pan, and either line it with parchment paper, or dust the bottom and sides of the pan with sifted gluten-free cocoa powder.
Spread the batter in the prepared cake pan, and/or cupcake papers.
Bake at 350° F for about 35 minutes, or until a toothpick inserted into the center comes out clean.
The cupcakes take about 25 minutes to bake.
Allow cake to cool for about 10 minutes, then remove it from the pan and allow it to cool completely on a wire rack.
Dust top of gluten free chocolate chickpea cake with icing sugar, and garnish with fresh raspberries, if desired.
Make someone happy today, and treat them to this gluten free chickpea chocolate cake!

Baking Tip
If you are interested in baking with the most "eco-friendly" tools, then consider purchasing silicone muffin /cupcake baking cups.
We used them for the first time to make these gluten free chocolate cupcakes, and I was actually amazed at how they turned out.
We greased them with non-stick cooking spray, then placed the filled silicone cups on parchment paper, on a cookie tray.
We were very happy with the outcome, and they are easy to remove from the silicone cups.
They are available for online purchase at *Amazon.com.

Baking with Silicone Baking Cups
---
TOP of Gluten Free Chickpea Chocolate Cake Recipe 

RETURN to More Gluten Free Raspberry Recipes

RETURN to More Recipes for Raspberry Cake

HOME to Homepage

©2010-2023 Raspberry-depot.com - All Rights Reserved Worldwide 
No Reproduction Permitted Without
the Express Written Consent of the Site Owner