Gluten Free Raspberry Dessert - 
Apple Crumble Recipe
Wheat Free Raspberry Dessert Idea
Make this Gluten Free Raspberry Dessert!
A Yummy Raspberry Apple Crumble that the whole family will love -- and they will never even guess that it's a wheat free raspberry dessert!
I made this warm raspberry and apple dessert, and the whole family loved it!
You can easily substitute the raspberries with sliced strawberries, cranberries or blueberries is you prefer.
Use FRESH or FROZEN berries :)
---
---
Ingredients
FOR THE FRUIT
1/3 cup granulated sugar
1/2 tsp. ground cinnamon
3 tbsp. cornstarch
8 - 10 medium size apples, cored, peeled and sliced
3/4 cup fresh or frozen raspberries
1 tsp. almond extract
FOR THE CRUMBLE TOPPING
1/3 cup rolled oats
1/3 ground almonds or almond flour
1/3 cup packed light brown sugar
1 tsp. ground cinnamon
3 tbsp. chilled butter, cut into pieces

Directions

FOR THE FRUIT
In a large size bowl, whisk together the sugar, cinnamon and the cornstarch.
Add the sliced apples and the raspberries.
Add the almond extract.
Toss the fruit to coat, being careful not to break up the raspberries too much.
Set aside.

---
---
FOR THE CRUMBLE TOPPING
In a medium size bowl whisk together the oats, ground almonds (or almond flour), brown sugar and the cinnamon.
Add the pieces of chilled butter.
Using a pastry blender, a fork, or your fingers (!), mix together the ingredients until the mixture resembles coarse crumbs.
Transfer the apples and raspberries to an 8" square baking dish.
Top with the crumble mixture.
Bake in the oven on a rack in the lower third of the oven.
Bake at 375° F for about 30 - 40 minutes, or until the top of the crumble has browned in colour and the fruit juices have bubbled up.
Cool crumble dessert at room temperature for about 10 minutes before serving.
Serve warm or cooled.
If desired, add or a dollop of (gluten free) Greek yogurt or a topping of your choice!
ENJOY!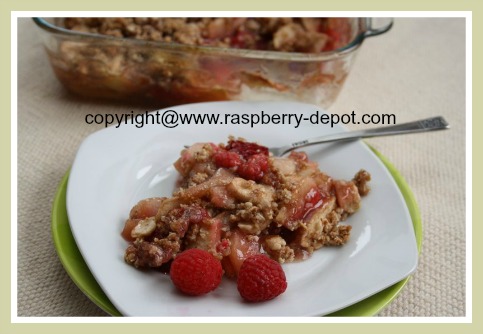 ---
---
TOP of Gluten Free Raspberry Dessert
RETURN to More Gluten Free Raspberry Recipes

RETURN to More Raspberry Dessert Ideas
HOME to Homepage

Copyright ©2010-2018 Raspberry-depot.com - All Rights Reserved Worldwide No Reproduction Permitted Without
the Express Written Consent of the Site Owner

* Raspberry-Depot.com is a participant in the Amazon Services LLC Associates Program, an affiliate advertising program designed to provide a means for sites to earn advertising fees by advertising and linking to Amazon.com.