Raspberry Crumble Dessert Recipe
With Oatmeal Topping
This Raspberry Crumble Dessert Recipe with Oatmeal Topping, (see the pictures!), makes a scrumptious dessert made with red, yellow, purple, wild or black raspberries.

*As an Amazon Associate I earn from qualifying purchases at no cost to you.
I made this crumble with red AND black raspberries, but you can make it with all one colour of berry, or mix different varieties of raspberries!

Our family loves fruit crumbles with LOTS of topping, but if you prefer a berry crumble with less topping, simply adjust the ingredients for the topping by one-half - the taste will still be scrumptiously scrumptious!
---
---
Ingredients
Note - If you are using frozen raspberries for this recipe, thaw them in a sieve over a bowl, and discard the excess liquid, or add it to a any smoothie!

4 cups fresh or frozen raspberries (any variety)
1/3 cup granulated sugar
2/3 cup plus 3 tbsp. all-purpose flour, divided
1 1/2 cups oats
2/3 cup packed brown sugar
1/2 cup cold butter, cut into pieces

Directions
In a large bowl, whisk together the granulated sugar and the 3 tbsp. all-purpose flour.
Add the raspberries to the above mixture, and gently toss to coat.
Transfer the coated raspberries into a 9" square baking dish, or similar size.
In another bowl, combine the oats, brown sugar and the remaining 2/3 cup flour.
Cut in the butter pieces (using a pastry cutter, a fork, or your fingers!), until the crumble mixture resembles coarse crumbs.
Sprinkle over the berries.
Bake at 350176 F for about 30 minutes, or until golden brown, and the fruit juices have bubbled up.
Serves 9.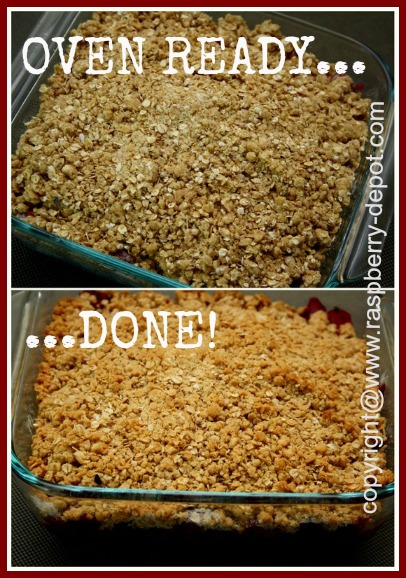 ---
---
---
TOP of Raspberry Crumble Dessert

RETURN to More Raspberry Dessert Recipes
RETURN to More Black Raspberry Recipe Ideas

HOME to Homepage

©2010-2019 Raspberry-depot.com - All Rights Reserved Worldwide 
No Reproduction Permitted Without
the Express Written Consent of the Site Owner