Apple Raspberry Crumble Recipe

A Dessert Recipe Idea Using Red, Black,
Purple or Yellow Raspberries and Apples
This Yummy Apple Raspberry Crumble Recipe with Oatmeal Topping makes an amazing dessert with any variety of raspberries ... red, black, purple, or yellow raspberries!

*As an Amazon Associate I earn from qualifying purchases at no cost to you.
You can use fresh OR frozen raspberries to make this fruit crisp recipe!

A dessert crumble recipe that is easy, quick and amazing in flavour!
You can serve this crumble as a snack, a dessert, or even for a special breakfast or brunch!
This dish can be served warm or cold, with whipping cream or ice cream, or it can be kept in the fridge for a few days to serve later.
**Note - For this recipe I used black and red raspberries, but using all one type of raspberry variety, or a mixture of any or all of red, black, purple or yellow raspberries (if you are lucky enough to have more than one variety on hand) will taste amazing as well!

---
---
Ingredients

FOR THE FRUIT
8 - 10 apples, peeled and sliced
2 tbsp. corn starch
1 can frozen apple juice concentrate, thawed
2 tbsps. butter or margarine
1 tsp. cinnamon
1 tsp. lemon juice
**1 cup fresh or frozen black raspberries
**1 cup fresh or frozen red raspberries
FOR THE TOPPING
2 cups quick cooking oats
1/2 cup all-purpose flour
1/2 cup chopped walnuts
1/3 cup vegetable oil
1/3 cup maple syrup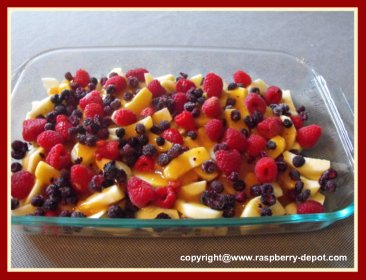 Apple Raspberry Crumble Dessert ... Ready for the Topping!
Directions
Place the apples in a greased 9" x 13" baking dish. Set aside.
In a saucepan, combine the cornstarch and apple juice.
Bring to a boil and cook and stir for 2 minutes or until thickened.
Add butter, cinnamon and lemon juice and stir.

Pour the above mixture over the apples and sprinkle the raspberries over top.
In a mixing bowl, combine the oats, flour and walnuts.
Add the oil and syrup and stir to combine.
Sprinkle over the raspberries.
Bake at 350 ° F for 40 - 45 minutes or until filling is bubbly and topping is golden brown.
Serves 10 to 12.
Enjoy this Apple Raspberry Crumble Dessert!

---
---
TOP of Apple Raspberry Crumble Recipe
RETURN to Raspberry Dessert Recipes
RETURN to More Black Raspberry Recipe Ideas

HOME to Homepage

©2010-2019 Raspberry-depot.com - All Rights Reserved Worldwide 
No Reproduction Permitted Without
the Express Written Consent of the Site Owner