Best Raspberry Peach Crisp Recipe

Raspberry Dessert Crisp
Without Oatmeal
This quick and easy Raspberry Peach Crisp Dessert is high in fibre, and tops in taste!
If you prefer a raspberry crisp without oatmeal in the topping, you have found a great recipe here!
This recipe uses all-bran cereal in the topping instead of oatmeal.

*As an Amazon Associate I earn from qualifying purchases at no cost to you.
It can be served warm, or cold with ice cream or whipped cream, or plain!
Consider making this comfort food recipe for your family tonight.
It sure is ..."Nice to come home to!"
---
---
Ingredients
Note - You can make this recipe with fresh or frozen fruit.
If you plan to use frozen fruit, use it semi-thawed, and discard any excess liquid.
FOR THE FRUIT
3 cups fresh or frozen sliced peaches
1 1/2 cups fresh or frozen raspberries
1 tsp. lemon juice
1/4 cup granulated sugar
1 tbsp. honey
4 tbsp. all-purpose flour
FOR THE TOPPING
1 1/4 cup all-bran cereal
1/2 cup brown sugar, packed
1/2 cup sliced almonds, or your choice of nuts
1/2 tsp. cinnamon
1/4 cup butter, cold
Directions

FOR THE FRUIT
In a large bowl, combine the peaches and the raspberries, and toss to coat with the lemon juice, honey, sugar, and flour.
Place the above mixture in the bottom of a greased, 8" or a 9" square baking dish.
FOR THE TOPPING
In another bowl combine the cereal, the almonds, brown sugar, and cinnamon. Add the butter, and, using a fork, or a pastry blender, mix until the mixture resembles coarse crumbs.
Place the crumb mixture over the fruit.
Bake at 350° F for about 25 - 30 minutes, or until the fruit bubbles up. If edges begin to get too dark, protect with foil.
---
---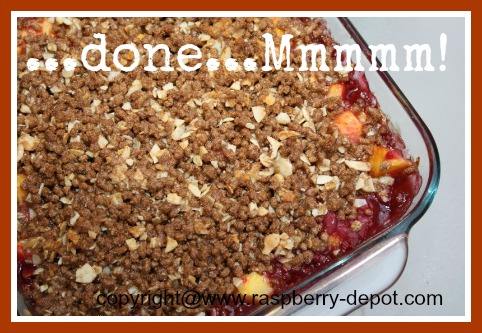 If serving warm, allow to cool 15 minutes before serving.

Top with ice cream or whipped cream if desired.
Serves 4.
GOT PEACHES?
Visit my "sister-website" for hundreds of easy peach recipes with pictures at Peach-depot.com

---
TOP of Raspberry Peach Crisp

RETURN to Raspberry Dessert Recipes

HOME to Homepage
©2010-2019 Raspberry-depot.com - All Rights Reserved Worldwide 
No Reproduction Permitted Without
the Express Written Consent of the Site Owner