Watermelon Raspberry Slush Recipe
Quick and Easy to Make
Low Fat Raspberry Drink
Make this Watermelon Raspberry Slush Recipe, it's so quick and easy and LOW FAT too!
*As an Amazon Associate I earn from qualifying purchases at no cost to you.
If you are planning to make this treat for more than two people, you can easily double or triple this amazing recipe.
Treat yourself to a healthy and delectable raspberry watermelon slushie! ... you'll be glad you did! ;)
The seeds of the raspberries are included ... but that is good, because the seeds are healthy!

Ingredients

1 cup frozen raspberries
1 cup seeded, watermelon chunks
1 cup lemon lime carbonated beverage
1 tbsp. granulated sugar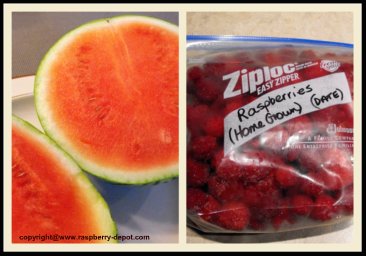 Directions
Combine all of the above ingredients in a blender or a food processor.
Process until well blended.
Immediately pour into glasses and serve.
Serves 2 - 3.
Now that's BERRY FRESH! ... and BERRY EASY!

---
---
Perhaps you are interested in owning your own Slushy Maker Machine? Check out these Great Models below, available for purchase online at *Amazon.com.
Click on the images for more detailed product information and customer reviews.

Slushie, or "Snow Cone Machines" are excellent gifts for kids too! I remember with fondness the sno cone machine I received for my birthday when I was a child.
I absolutely loved to treat my siblings and parents, and anyone who was interested in a refreshing frozen fruit drink!
Consider a snow cone machine as a gift for your son/grandson or your daughter/granddaughter. Whether it be a Birthday Gift or a Christmas gift, it will provide hours of enjoyment for the special little people in your family.
This is also a great way to encourage youngsters to drink their fruit juice.
You can use natural fruit juice or syrup for the slushies, or you can purchase different flavours of syrup.
Great fun for kids!

---
TOP of Watermelon Raspberry Slush Recipe 

RETURN to Raspberry Drink Recipes
RETURN to More Low Fat Raspberry Recipes

Home to Homepage

©2010-2019 Raspberry-depot.com - All Rights Reserved Worldwide 
No Reproduction Permitted Without
the Express Written Consent of the Site Owner