Raspberry Upside Down Cake Recipe

Fresh Raspberry Cake from Scratch
This Raspberry Upside Down Cake Recipe makes a mouth watering cake with fresh raspberries from scratch!

*As an Amazon Associate I earn from qualifying purchases at no cost to you.
This yummy cake tastes amazing served warm or cooled. The raspberry caramel topping gives it a scrumptious flavour all of it's own!

---
---
Ingredients
FOR THE CAKE

1/2 cup softened butter
1/3 cup granulated sugar
1/3 cup packed brown sugar
2 medium eggs, beaten
1 tsp. vanilla extract
1 3/4 cups all-purpose flour
1 1/2 tsp. baking powder
1/2 tsp. baking soda
3/4 cup milk
1/2 cup icing sugar
2 tsp. water

FOR THE RASPBERRY CARAMEL TOPPING
1/2 cup packed brown sugar
1/4 cup butter
1 tsp. water
2 pints OR 2 cups fresh raspberries

---
---
Directions
FOR THE RASPBERRY CARAMEL TOPPING
In a small pan, over medium heat, cook the brown sugar, butter and 1 tsp. water, stirring constantly until the sugar is dissolved (about 2 minutes).
Transfer the caramel mixture to a parchment paper-lined 9" x 9" baking pan.
Arrange the fresh raspberries on top (see images).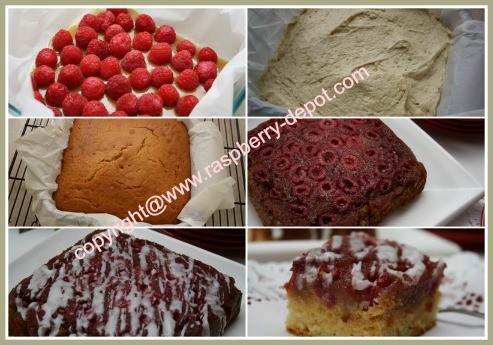 FOR THE CAKE
In a large bowl, beat together the butter, granulated sugar and the brown sugar until mixture is light and fluffy.
Beat in the eggs and the vanilla extract.
In a small bowl, whisk together the flour, baking powder and the baking soda.
Stir the flour mixture into the butter mixture alternating with the milk.
Add the cake batter to the top of the raspberries in the baking dish, smoothing the top.
Bake at 350° F for about 35 minutes, or until a toothpick inserted into the center of the cake comes out clean.
Allow cake to cool in the pan for about 10 minutes on a cake rack.
Mix the icing sugar with 2 tsp. of water.
Invert the warm cake onto a serving plate, and gently remove the parchment paper.
Drizzle the cake with the icing sugar mixture.
(If desired, you can serve this cake without the icing sugar topping, and it will taste just as scrumptious!)
Serves 9 - 12.

---
TOP of Raspberry Upside Down Cake Recipe
RETURN to More Raspberry Cake Recipes
HOME to Homepage

©2010-2019 Raspberry-depot.com - All Rights Reserved Worldwide 
No Reproduction Permitted Without
the Express Written Consent of the Site Owner