Easy Raspberry Ice Cream Recipe
Homemade Ice Cream Made With
Raspberries, Rhubarb and Cookie Crumble!
This amazing homemade Rhubarb Raspberry Ice Cream Recipe combines two delectable flavours - raspberries and rhubarb, with buttery, crispy crumble, all combined in sweet cream!

*FTC Disclosure: As an Amazon Associate I earn from qualifying purchases with no extra cost to you

*FTC Disclosure: As an Amazon Associate I earn from qualifying
purchases with no extra cost to you
This recipe would work well with red OR black raspberries ... or a combination of both!

If desired, you can easily prepare the rhubarb raspberry puree a few days ahead of time so that it will be well cooled, and make the ice cream at a later date!

---
---
Ingredients

FOR THE ICE CREAM
12 oz. fresh rhubarb, chopped into 1/2 - 1" pieces (about 2 1/4 cups) 
1/2 cup fresh or frozen raspberries, (do not thaw)
1 cup sugar, extra-fine (or granulated sugar processed in blender) 
1 tbsp. lemon juice (bottled or fresh)
2 cups heavy cream (whipping cream)
FOR THE CRUMBLE
2/3 (75 g) flour, all-purpose
1/2 cup (50 g) rolled oats
1/4 cup (50 g) butter
1/3 cup brown sugar
1/2 tsp. ground ginger, optional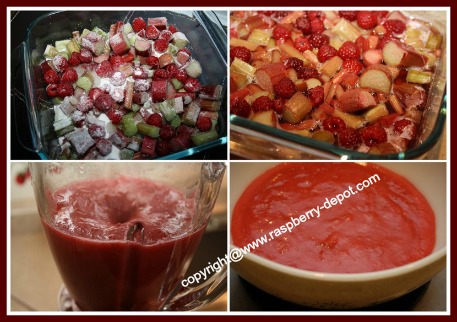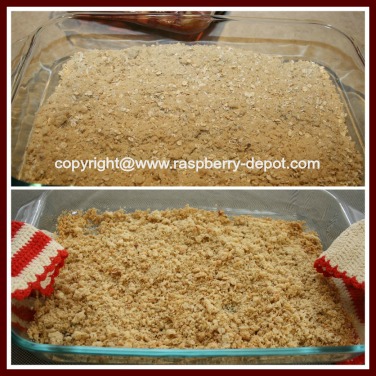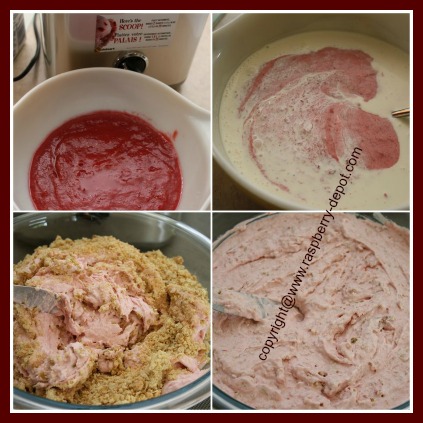 Directions

Combine the rhubarb, raspberries, sugar and the lemon juice in a large, shallow baking dish.
Bake the above mixture in the oven at 375° F for 20 minutes, or until the raspberries and the rhubarb are tender.
Cool mixture, and blend until smooth.
In a bowl, combine the flour, rolled oats, butter, brown sugar, and the ginger, (all the crumble ingredients), until it resembles coarse crumbs.
Transfer the crumbs to a baking dish and bake in the oven at 375° F for 10 minutes, or until golden brown. -

---
---
Remove the crumb mixture from the oven, and break the crumbs into small pieces, and allow to cool.
In a large bowl, combine the cream and the cooled rhubarb and raspberry purée.
Churn in an ice cream maker, according to the manufacturer's instructions (about 25 minutes), or see instructions at:
How to Make Ice Cream Without an Ice Cream Maker Machine

Spoon the ice cream and crumble pieces into a freezer container in alternate layers.
Using a blunt knife, gently cut through the layers, swirling the crumble throughout the ice cream.
Cover the surface of the ice cream with wax paper or foil, and freeze for at least 3 hours.
Makes about 1 litre of Delicious Rhubarb Raspberry Cookie Crumble Ice Cream!
Got Rhubarb?
GO to More RHUBARB Recipes
Want to make a Raspberry SORBET?

GO to Raspberry SORBET Recipes

I topped my rhubarb raspberry ice cream with homemade black raspberry sauce ... wow, what a treat.
If you are interested in making homemade raspberry syrup,
GO to Homemade Red or Black Raspberry Syrup Recipe

Interested in More Ice Cream Recipes to Make at Home?
Or, Are you Looking for a Good Ice Cream Maker to Buy?

Here below are products available for online purchase at *Amazon.com.

Click on the images below for additional product information and customer product reviews.
I LOVE my CUISINART Ice Cream Maker! I HIGHLY recommend it -- it is the FIRST item below:

---
TOP of Rhubarb Raspberry Ice Cream Recipe

RETURN to More Raspberry Ice Cream Recipes
RETURN to More Black Raspberry Recipe Ideas

HOME to Homepage

©2010-2023 Raspberry-depot.com - All Rights Reserved Worldwide 
No Reproduction Permitted Without
the Express Written Consent of the Site Owner